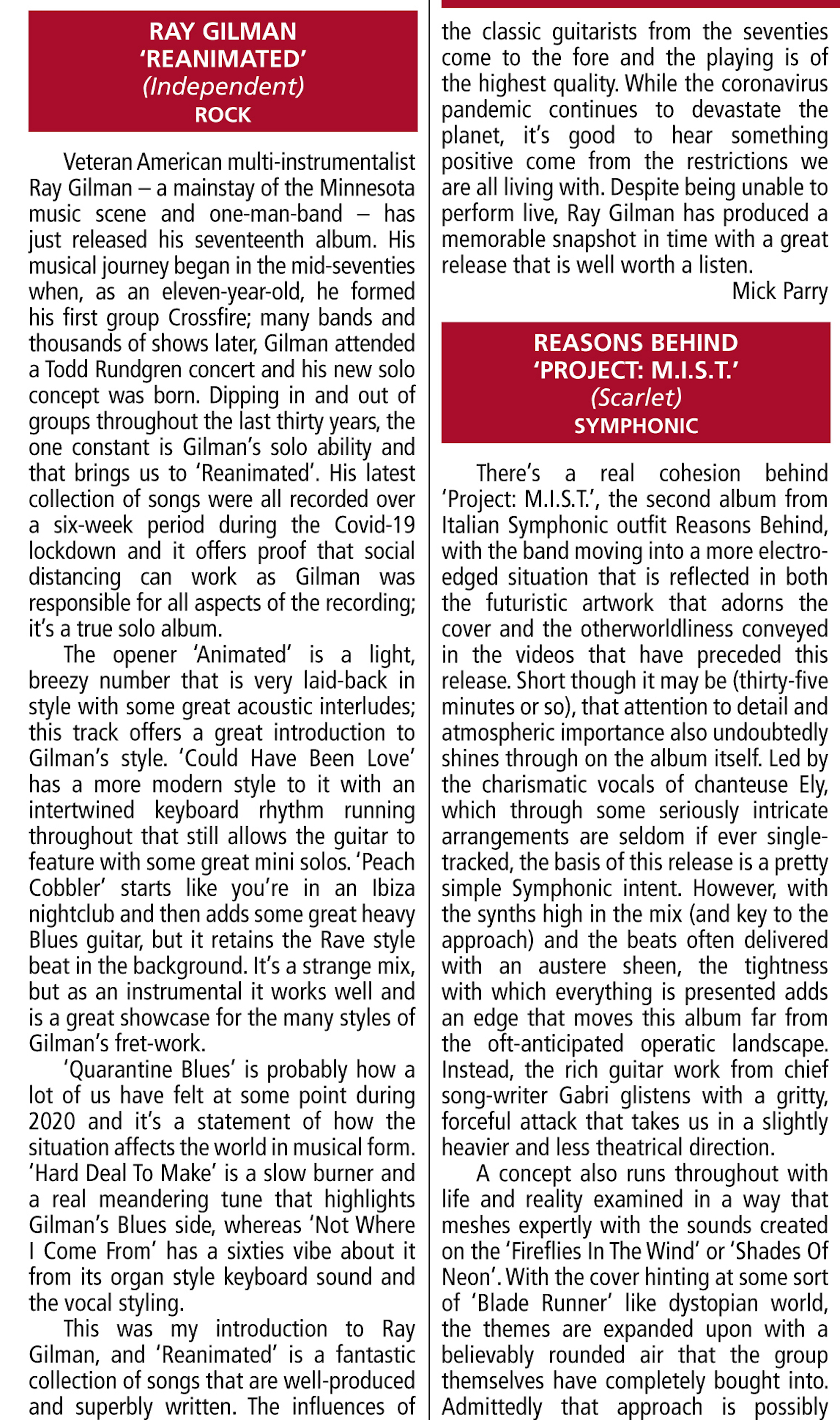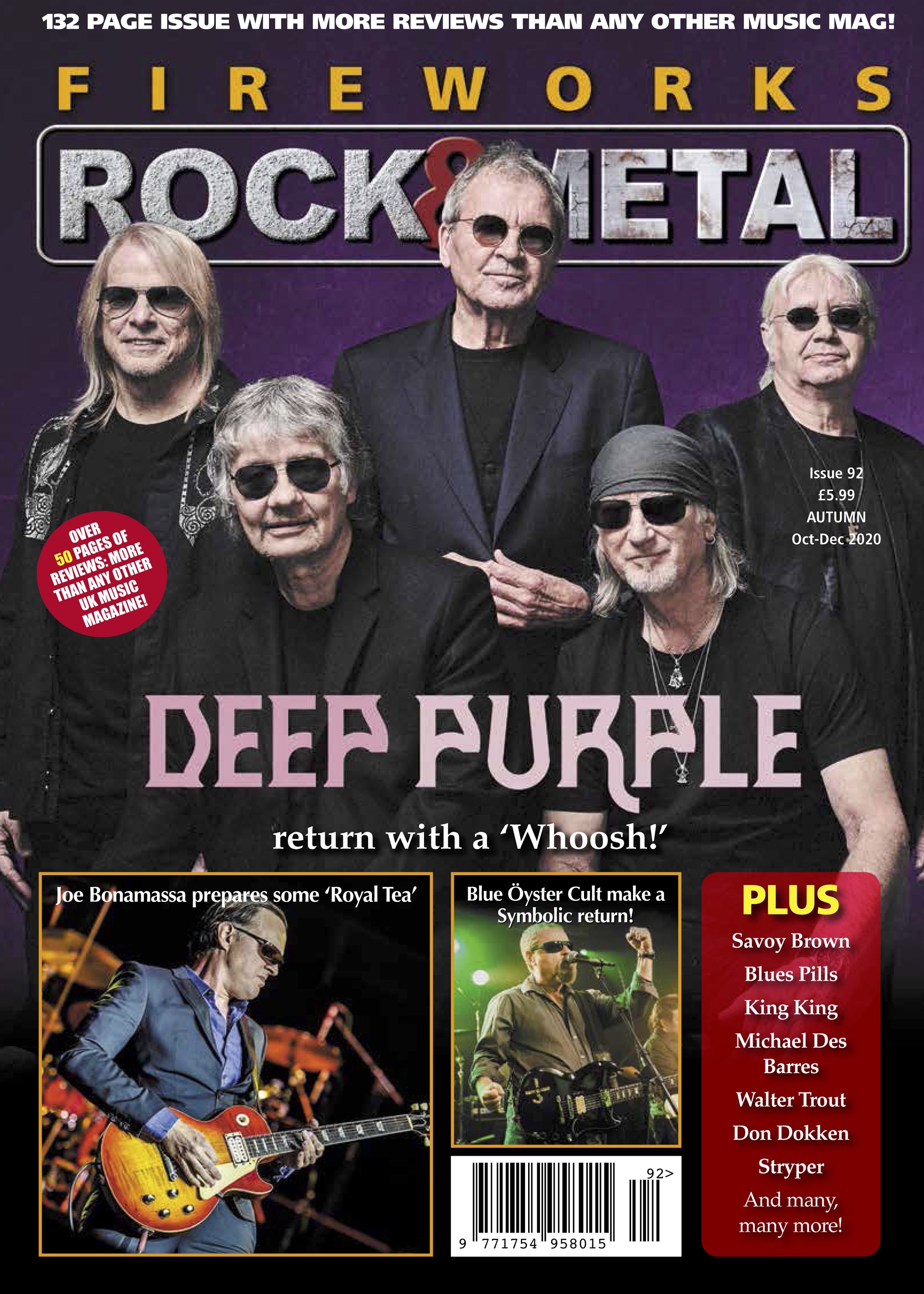 Pulse Alternative Magazine UK
RAY GILMAN

'Reanimated' (CD & DL, 15 May 2020)
A veteran of the Minnesota music scene, RAY GILMAN has performed 1,000's of shows and released an impressive 17 CD's, the latest of which, 'REANIMATED' comes preloaded with 12 cracking tunes and should further increase Ray's standing in the music world while expanding his core fan base.
Ray cites such luminaries as Jeff Beck, Jimmy Page and Tony Iommi as influences but the great thing about 'Reanimated' is that it doesn't sound like any of them. Ray's got his own unique thing going on but I am picking up a Tom Petty vibe on opening cut 'Animated'. An earworm from the top drawer it's the type of song that'll bury deep in your cranium and haunt you for days. The refrain is so catchy it should be illegal as it skips along on a ray of sunshine. 'Give Me One More Day' follows in a similar vein and it's here that Ray's guitar is set free to insert a bluesy solo mid song like a delicious filling in a chocolate gateaux.
The slightly of kilter 'Could Have Been In Love' finds Ray taking a distinctly new wave turn; like Clapton jamming with The Cars it's not an unpleasant detour. 'Questions' seems to ululate as it bounces from solo to riff and back again as the cascading synths mid song create a nice foil to the earthy guitar. With a nod to the British blues boom 'Peach Cobbler' is an all out raucous rocker. Full of clashing riffs and electrifying guitar solos its only fault is that, at under 3 minutes, it's just too darn short.
If something good has come out of this coronavirus then it's surely 'Reanimated'. Using the downtime to write and record this album in just 6 weeks has resulted in a long player that's propelled forth by a spontaneity that's rather infectious. 'Quarantine Blues' succinctly summarises our current plight before 'Deliver Me' puts its foot to the floor for some serious rock action and Ray has possibly created the ultimate driving song; synths rise as if heat from the road while the riffs spin like wheels gaining traction.
The quintessential definition of a one man army Ray not only wrote and played all the instruments on 'Reanimated' but he also engineered, mastered and produced it too which makes all the twists and turns contained within even more impressive. Stevie Ray Vaughan on a slow blues jam is 'Hard Deal To Make' before we get the heavy punch of latter day Zeppelin on 'Beginning And Beyond'. 'Don't Run Away' saunters into town with a confident swagger and will win over any disbelievers with its funky groove.
The penultimate 'Not Where I Come From' is a howling blizzard of lush keys and swirling guitars that sweep the listener up in a storm of effervescence. 'Hard To Say' is the grandiose closer very much in the vein of Journey or Foreigner. Ray Gilman really deserves to be heard by a bigger audience but I'm sure the wrong type of record label would water down his eclecticism so I suggest you climb aboard now.